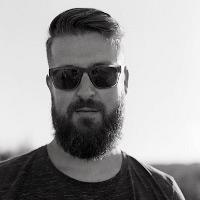 Photo: Jan Scholz
Joris Peeters (1982) is een fotograaf uit Rotselaar (BEL).
Fotografie is voor mij een middel om mensen te ontmoeten en plaatsen te ontdekken. De foto's zijn daar een herinnering aan, hoe kort of klein dat moment ook was. Portretten zijn een samenwerking waarbij zowel fotograaf als onderwerp hun inbreng hebben, bewust of onbewust. De foto's zijn vaak ingetogen, maar oprecht. Ik laat me leiden door mijn intuïtie en wat ik zie, om op die manier te verbinden. "We leven slechts om schoonheid te ontdekken. Al het andere is een vorm van afwachten." (Kahlil Gibran).
To me, photography is a means to meet people and discover places. The photographs are a reminder of that moment, no matter how short or small. Portraits are a collaboration in which both photographer and subject have their input, either consciously or not. The photos are often silent, but sincere. I'm guided by my intuition and by what I see, to make a connection. "We live only to discover beauty. All else is a form of waiting." (Kahlil Gibran)
Opleiding/education
SLAC beeldende & audiovisuele kunst - atelier Fotokunst (afgestudeerd/graduated 2013)
Professionele bachelor in communicatie / journalistiek (afgestudeerd/graduated KHM 2004)
Publicaties/publications
enola.be, De Morgen, Het Nieuwsblad, Metro, Pas Uit, Passe Partout, trots (gemeentemagazine Rotselaar), brochure 'In Woord en Beeld', Schmap Dublin Guide, afasia archzine.
Waardering/appreciation
Carmencita Film Lab best of november 2018
Carmencita Film Lab best of november 2017
Expo
Hangar 3020 Herent - oktober 2018
Kunstcorner (GC de Mena Rotselaar) - november 2016
Joris Peeters is ook oprichter van De Verbeeltenis Fotografie.